Another successful year for the club as both Warren Spring F and G won their divisions (one and two respectively), our L team won the Cobb Cup and our J team were Runners up in the Henderson Cup.
In the NCL our A team won division 1 Southern Zone.
In the North Herts Closed Junior Tournament:-
Beau Casey beat Pablo Ramirez-Rioja in the U/13
Victor Ramirez-Rioja beat George Thorn in the U/15
Meth Wijeyekoon beat George Thorn in the U/18
The girls event was a round robin of 6 players, in the final Isabelle Lacorte beat Indu Pawar,

2019 is the club's Diamond Anniversary. To mark this occasion, we are holding a weekend of table tennis over the period 9th - 10th November at the St.Neots table tennis centre. On Saturday there will be events for players from our local leagues whilst the Sunday will be given over to elite players both men and women from around the country, so far we have 23 for both men and women who have expressed an interest. With stars like Ethan Walsh (England No 3 junior), Sam Wilson (England No 33) and Adam Jepson (England No 37) the day should offer some very good calibre table tennis to view, so well worth coming along. In the lady's competition Mollie Patterson (England No 6) , Moldovian international Elena Todirca and the best female Polish player in the country Daria Dzierbicka have all expressed an interest to play.

The clubs AGM will be held at Newnham Village Hall on Wednesday 19th June starting at 20:00


Over the weekend of 2nd and 3rd March 37 players took part in the club closed Tournament (full details are in the March Newsletter and results are in the Tournaments page).

The NCL held their last weekend of competition for this season (full details are in the March Newsletter and results are in the NCL page). Our teams all faired well in their various divisions.

The club celebrates its Diamond anniversary this year and will be organising a weekend of Table Tennis over the weekend of 9th and 10th November 2019 at St Neots Table Tennis Centre. On the Saturday we will hold 4 competitions (to be confirmed) for all players in the North Herts TTA, Cambs and District TTL and Bedford and District TTL. On the Sunday we will hold two Elite invitation tournaments for 32 male and 32 female players.

Congratulations to Heidi Oestreicher who recently won the Bedfordshire School Champion.

The club annual dinner will be held on Saturday 27th April at the Green Man in Stanford.

For full details of the following please see the December Newsletter.

So far the club is doing quite well in the various divisions, in Premier our B Team is mid table, in Division 1 we are 1st and 2nd with our other 2 teams just below mid way. In Division 2 we currently hold the top spot and our other team is in 3rd place. In Division 3 again we hold top spot with our other teams in 5th and 8th position.

In the cup finals we won Division 1, in Divisions 2 and 3 we were runners up (5-4).

In the National Cadet league we are top of Division 1, In Divisions 2 and 3 we are 4th and in Division 4 we are at the bottom. See the NCL section of this website for more details.

This year the club Tournament will be held on 2nd and 3rd March.

It is with regret that we have to announce the passing of Ron Bent who had played for many years in the North Herts League with Settlement Ravens and then with ourselves.

Finally, congratulations to our Chairman Bill Price who received a Lifetime Achievement Award, this award recognises individuals who have made a significant contribution to sport in Hertfordshire and beyond.

The club has got off to a good start in all divisions (full details are in the October 2018 Newsletter). But unfortunately for the first time in the clubs history one of our teams (A Team) has had to withdraw from the Premier Division.

The Table Tennis Showcase held at Luton Table Tennis Club on September 30th was an enjoyable experience with good table tennis, Caribbean food and a Caribbean drum band (full details are in the October 2018 Newsletter).

Isabelle Lacorte (England No 2 at U/12) finished in 25th place at the European Mini Championships held in France recently, this was an improvement from her 39th place at last years championships. (full details are in the October 2018 Newsletter).
Isabelle is second from the right in this photo of the England Mini Squad.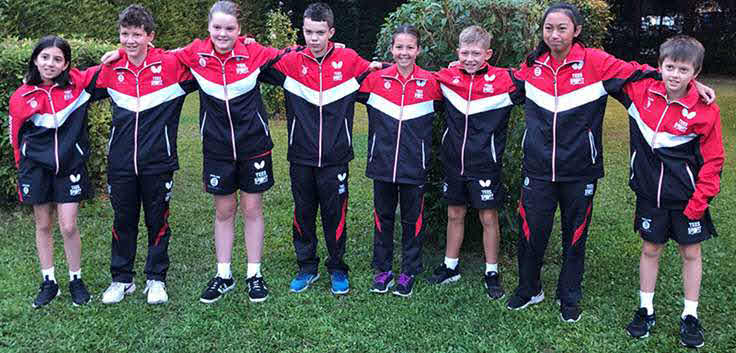 The Teams, Division structures and Match Calendar are now available on the NHTTA web site.

Please ensure that you have paid your ETTA subscriptions before the season starts, else your games will be void.

Your Warren Spring yearly subs are now due.

One of our new club signings (Elroy Edwards) is organising a table tennis showcase on Sunday September 30th at Luton Table Tennis Club (see September 2018 newsletter for full details)

Currently scheduled to appear in the showcase are:-

Our two top boys, James Hamblett (England No5 at U/13 level), Victor Ramirez-Rioja (England No17 at U/13 level).

Plus :-

Charlotte Marsden, England No20 Junior Girl
The Portuguese "Pocket Rocket" Raquel Sao Pedro - England No 4 Cadet Girl
Darius Knight - Senior No 8, England International
Gabriel Achampong - England Senior No 28
Chris Cockburn - England Senior No 119

and Former Bulgarian International - Radoslav Kamberov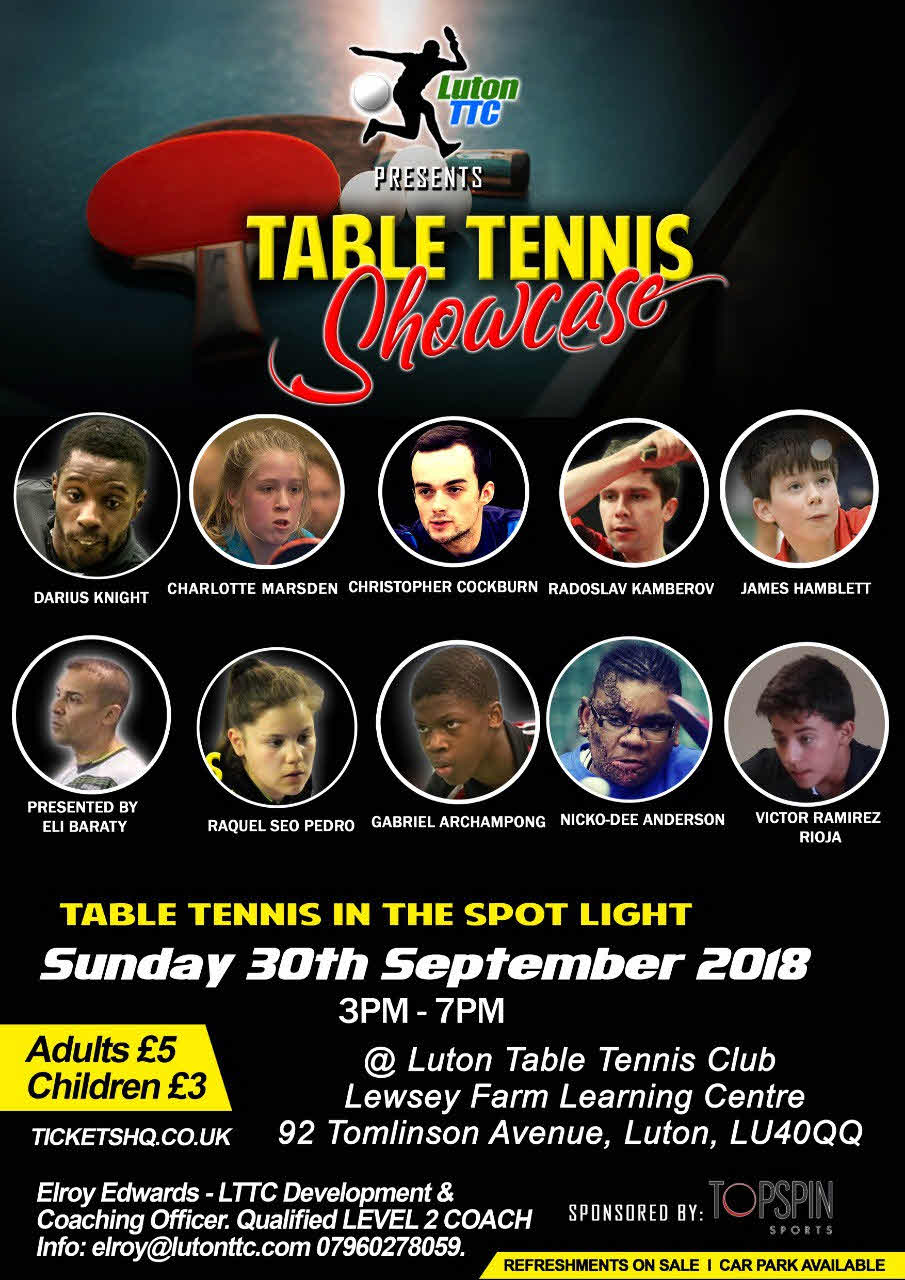 This website has been redesigned using WYSIWYG Web Builder to provide a more responsive design across all types of viewing devices.

The club will commence its summer practice evenings on Tuesday 10th July at the Great Wymondley Hall. Start time is 7.30 and cost is £3.50 per session. Junior players are welcome.


Welcome to the Warren Spring Table Tennis Club Website.